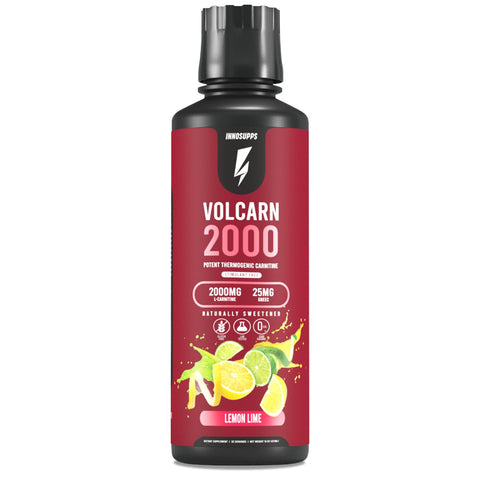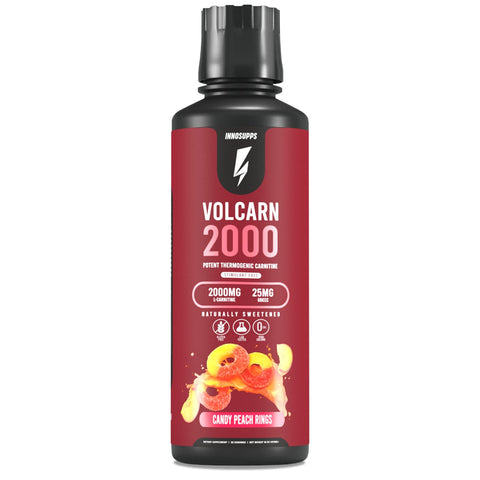 Inno Supps
Innosupps Volcarn 2000
Tax included.
Shipping
calculated at checkout.
Product Description
Volcarn 2000 by Innosupps: Ignite Fat Burning with Thermogenic Power

*Volcarn 2000 is a thermogenic carnitine designed to mobilize your fat cells and burn them for energy. Feel its rapid effects within minutes – expect swift fat loss, improved endurance, and heightened focus and mental drive. Plus, it's stimulant-free and free of artificial sweeteners.*

Delicious and Innovative Flavors

All-Star Ingredients to Amplify Fat-Burning

1. L-Carnitine
Carnitine efficiently burns stored fat cells as energy, breaking down fat and fatty acids into ATP. Once converted, the body rapidly burns fat as energy, aiding in quick and efficient weight loss.

2. GBEEC (Super Carnitine)
Known as "Super Carnitine," GBEEC can boost serum levels of carnitine by up to 300%. This powerful thermogenic enhances fat-burning, energy levels, and speeds up metabolism. Experience the thermogenic effects within 30 minutes of your first dose.

3. No Stimulants and Artificial Sweeteners
Volcarn is stimulant-free, providing clean, long-lasting energy the healthy way. Our products contain ZERO artificial sweeteners, fillers, or harmful additives. We prioritize maximizing your health and performance without compromising with artificial ingredients.

The Ultimate Carnitine with Fat-Incinerating Properties

Fat-Burning + Metabolism Boost

Volcarn 2000, with its key ingredients GBEEC and L-carnitine, effectively burns stored fat cells as energy. Utilize fat cells and convert them into ATP, allowing them to be torched off for supercharged energy.

Advanced ATP Activator + Enhanced Endurance

Carnitine and GBEEC are potent ATP activators, fueling your performance in the gym and significantly improving endurance.

Potent Thermogenic

Feel the thermogenic effects, sweat more, and burn more fat for up to 3 hours after taking Volcarn 2000. Experience the sensation of being "hot" after consumption – ideal for cardio or weight training.

Enhanced Cognition and Focus

Carnitine is proven effective at boosting mental cognition, energy, and mood levels. The brain utilizes carnitine for optimal function, with studies showing improvements in cognition, memory, and learning abilities with a daily intake of 2g.
Directions for Use
Serving Size 1 Tablespoon (14.79mL)
Servings Per Container 32
Nutritional information