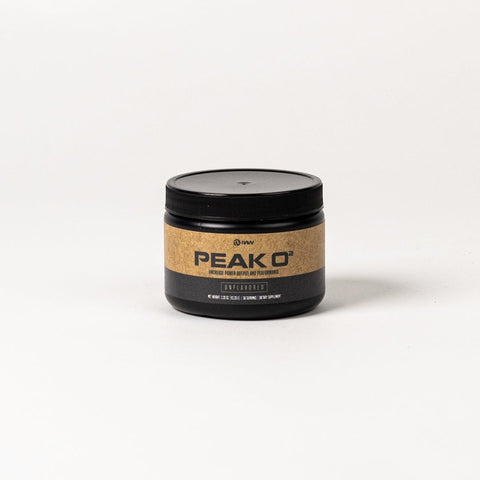 Raw Nutrition
RAW nutrition - Peak02
Tax included.
Shipping
calculated at checkout.
Product Description
Raw Nutrition's Peak O2 is a high-quality performance-enhancing supplement designed to help athletes and fitness enthusiasts maximize their workout potential. This powerful blend of six adaptogenic mushrooms is clinically proven to increase endurance, power, and overall workout capacity.

PEAKO2® IS AN ORGANIC-CERTIFIED COMBINATION OF SIX ADAPTOGENIC MUSHROOMS THAT ARE GROWN IN THE UNITED STATES, INCLUDING:

CORDYCEPS (CORDYCEPS MILITARIS)REISHI (GANODERMA LUCIDUM)KING TRUMPET (PLEUROTUS ERYNGII)SHIITAKE (LENTINULA EDODES)LION'S MANE (HERICIUM ERINACEUS)TURKEY TAIL (TRAMETES VERSICOLOR)

These adaptogens work together to increase the body's ability to utilize oxygen during exercise, leading to greater energy production and better physical performance. By improving oxygen uptake and utilization, Peak O2 can help you train harder and longer, allowing you to push beyond your limits and reach your fitness goals.

If you're looking for a powerful, natural performance-enhancing supplement that can take your workout to the next level, try Raw Nutrition's Peak O2 today. It's the perfect addition to any athlete or fitness enthusiast's supplement regimen.

BENEFITS OF PEAK O2

PEAKO2® was specifically designed to help users adapt to and overcome both physical and mental stress, resulting in improved power output and performance.

This product carries out its performance-enhancing effects by improving oxygen utilization and work capacity, while simultaneously reducing lactate levels. Essentially, PEAKO2® allows you to train harder for longer.


Directions for Use