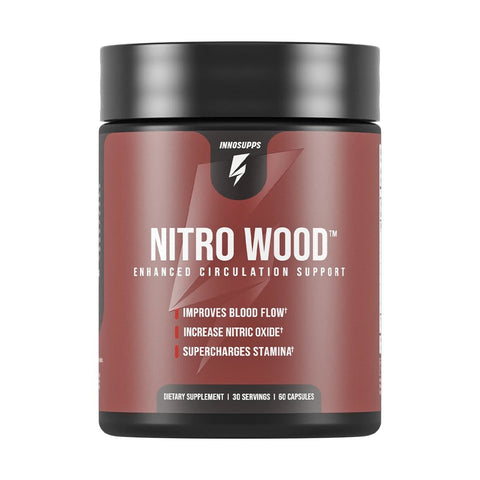 Inno Supps
Nitro wood
Tax included.
Shipping
calculated at checkout.
Product Description
Nitro Wood by Innosupps: Unlock Optimal Circulation for Enhanced Wellness and Performance

*Healthy blood flow is vital for heart health, improved energy levels, reduced swelling, and enhanced cognitive function & sexual performance.*

BLOOD VESSEL EXPANSION
*S7® Nitric Oxide Booster*

Helps Reduce Swollen Feet and Ankles*
Say goodbye to swelling by supercharging blood flow to help get extra circulation to THE ENTIRE body and extremities.
Ignites Energy Levels*
Elevated nitric oxide levels skyrocket physical performance and give you more endurance as it helps deliver more fuel, oxygen and nutrients to your body where it needs them, when it needs them.*
Increases Nitric Oxide by 230%*
Enhanced circulation and blood flow supports overall health — it boosts your cardiovascular and immune systems function as well as improves your mental cognition.*

ACCELERATED CIRCULATION BLEND
*Pine Bark + Beetroot + Cinnamon + Grape Seed Extract + Garlic Extract + Cayenne Pepper*

Promotes Nitric Oxide Production*
This explosive blend naturally triggers the best kind of nitric oxide production — your own body's.
Supports Healthy Blood Pressure
This combination of superfood extracts is high in nitrates, which is nature's way of maintaining blood pressure levels already in the normal, healthy range.
Improves Physical Performance*
You'll notice a vast improvement in your physical activity and endurance, whether at the gym or in the bedroom. Whatever the playground, you'll be knocking it out of the park!*

NATURAL IMMUNE SUPPORT
*Vitamin C + Niacin*

Fights Free Radicals*
Soak up damaging free radicals and give your body a much-needed layer of protection with antioxidants such as vitamin C and niacin (vitamin B3).
Get A-Head
If you're having occasional performance struggles, these immune-boosting vitamins also encourage nitric oxide production and may help support libido.

OPTIMIZED BLOOD FLOW = BETTER SEX, HEALTH & WELLNESS

*FIRE UP YOUR LOINS WITH OPTIMAL CIRCULATION*

Smooth blood flow will keep your body energized and support the delivery of vital nutrients to every organ in your body — even the one in your nether regions.*

*UNLEASH YOUR SEXUAL POWER*

Get ready for some good lovin' because more blood to your bits could mean better stimulation to your love organ, which may give you a boost to your libido.

*HELPS RELIEVE SWOLLEN FEET, LEGS AND ANKLES*

Once that blood starts flowing, your stamina and endurance — among other things — may shoot through the roof!*

*BETTER HEALTH = SUPPORT FOR BETTER SEX!*

Experts say proper blood flow is the key to maintaining sexual health, so good circulation may be exactly what you need for a more pleasurable intimate experience.*

CONSISTENCY IS KEY
*We recommend taking Nitro Wood for 90 Days*

Although Nitro Wood starts working immediately and helps boost nitric oxide and supercharge circulation throughout THE ENTIRE BODY, taking Nitro Wood consistently for 90-180 days can significantly improve health, wellness, and performance results.

Board-certified cardiologist Dr. Filsoof suggests taking Nitro Wood for a minimum of 90 days to help achieve maximal long term results such as:

- Amplified sexual performance: more blood flow when and where it is needed the most
- Supercharged muscle pumps, strength and endurance
- Enhanced energy, mental clarity and immune function
- Helps enhance circulation to reduce swollen, puffy feet and ankles
Directions for Use
Serving size 2 vegetarian capsules
Serving per container: 30
As a dietary supplement take two 2 capsules anytime during the day with or without food. Store in a cool and dry place.

If you are taking any prescription or OTC medications, you should first consult with your doctor before taking Nitro Wood or any other supplements.
Nutritional information