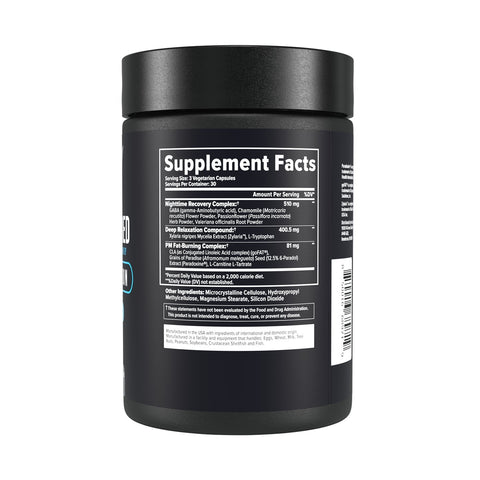 Inno Supps
Innosupps night shred - black edition
Tax included.
Shipping
calculated at checkout.
Product Description
Cutting-Edge Sleep Aid and Fat Burner

PRIME THE BODY FOR EXTREME RELAXATION, DEEP SLEEP AND FAT-BURNING WITH NIGHT SHRED BLACK
More Relaxation From Within
Zylaria™ stimulates the brain to maximize GABA production, which is entirely different and more effective than supplementing with GABA externally. You will feel the difference almost immediately!

Total Relaxation and Zen Before Bed
When the body starts to produce GABA, consumers literally feel a wave of bliss and relaxation that soothes the mind and body. Combine that wave of pleasure with supporting ingredients that further reduce stress and promote relaxation, and you will be excited to take your Night Shred Black every night before bed.

24/7 Metabolism Boost
Grains of Paradise helps boost the metabolism around the clock by stimulating the body to produce more brown adipose tissue. Combined with CLA and L-carnitine, with consistent use, getting lean becomes almost effortless and the results tend to keep getting better and better.

Reduce Nighttime Cravings
Curbing nighttime cravings and ending late-night food binging can be an absolute game-changer for your physique! Experience relaxation without feeling the need to load up on carbs immediately before bed
Directions for Use
Take 3 capsules 30 minutes before bed, with or without food.