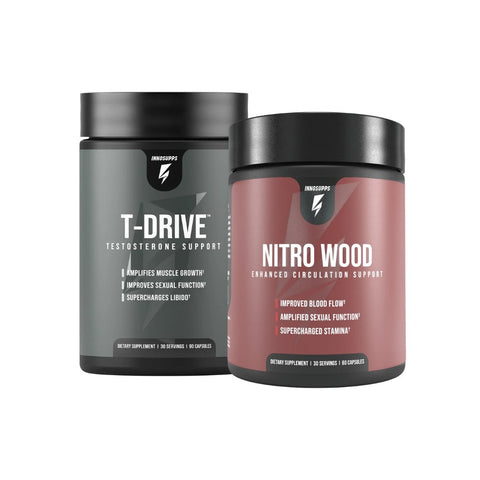 Inno Supps
Male Vitality Stack
Tax included.
Shipping
calculated at checkout.
Product Description
This is the fix you might not even know you needed.
Innosupps Nitro Wood + T-Drive⁠
⁠
Low testosterone levels have multiple repercussions, one being muscle loss! Add poor blood flow into the mix and that might be the reason you aren't seeing those gains after the gym!
⁠
So if you're struggling with poor performance + endurance, keep reading.
⁠
Nitro Wood helps improve your overall blood flow by naturally boosting the nitric oxide levels in your body. It's packed with a blend of natural ingredients, such as-⁠
⁠
- Pine Bark⁠

- Beetroot⁠

-Cayenne Pepper⁠
⁠

T-Drive is loaded with KSM-66, the purest form of ashwagandha extract, to help boost your training and take your physical performance to another level.
⁠
The combination of the two, taken together consistently, can help you level up your performance at the gym and every other aspect of your life.
Directions for Use
How do I take Nitro Wood?
We recommend 2 capsules a day with or without food, whichever you prefer. But if your stomach gets easily irritated, you should take it with food.

How do I take T-DRIVE?
Take three (3) capsules anytime during the day with or without food.