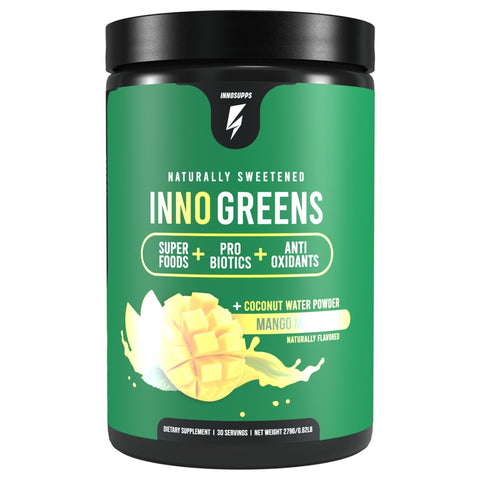 Inno Supps
Inno Greens
Tax included.
Shipping
calculated at checkout.
Product Description
Fight Inflammation and Boost Immunity
Inno Greens is your daily dose of greens plus nutritional fruit and veggie extracts to optimize your health and wellness. Each scoop of our delicious nutrient-dense profile contains both digestive enzymes and probiotics to enhance the absorption of these superfoods.

Made with more than 25 greens & superfoods
A powerful blend of natural ingredients in every cup.

Organic superfood blend

A superior combination of leafy greens, herbs, organic grasses, and seaweed powders to help you reach your recommended vegetable and fiber intake. This green blend is high on polyphenols and other plant compounds that help boost immunity, energy levels, and natural detoxification.

Advanced prebiotic+ probiotic blend

Inno Greens contains Inulin, a prebiotic fiber (derived from non-GMO chicory root), and Bacillus Coagulans a probiotic "good" bacterium, both ingredients provide multiple digestive benefits and prevent gas, bloating, and diarrhea.

Super antioxidant + hydration blend
A super delicious and healthy mix of the most phytonutrient-rich fruits and vegetables that are rich in polyphenols, anthocyanins, xanthones, resveratrol, and carotenes that offer an antioxidant boost for the brain, heart, and the whole body.

Plant-powered body tune-up
The fastest way to get nutrition to your body, making your blood and cells clean, well-nourished, and function properly. Preventive maintenance made easy.

Focused. No brain fog
Packed with organic greens and berries that are rich in antioxidants and carotenoids, which are known to boost brainpower.

Acidic no more
Consuming sugar, coffee, white flour, alcohol, and meat makes your body more acidic. Balance the effects of an acidic diet with alkaline-rich green juice.

Gut balance made super
A perfect way to get enough fruits and vegetables into your diet with less effort. Fortified with Probiotics to foster a balanced gut flora for better digestion and efficient vitamin K and biotin production.
Directions for Use
Serving size 1 scoop (9.1 g)
Servings per container 30

Directions Of Use
Mix one scoop of greens with 6-8 ounces of water. You can take up to two scoops daily.

There are no caffeine or stimulants in Inno Greens.
Innosupps sweeten its entire product line with natural sweeteners such as monk fruit and stevia.
Nutritional information