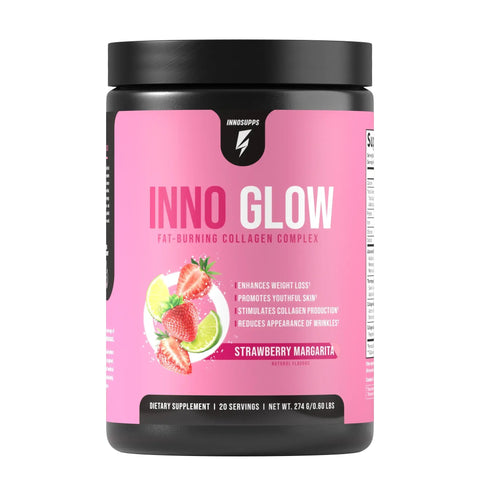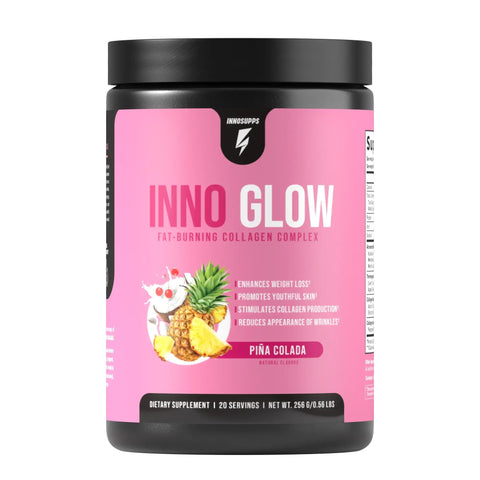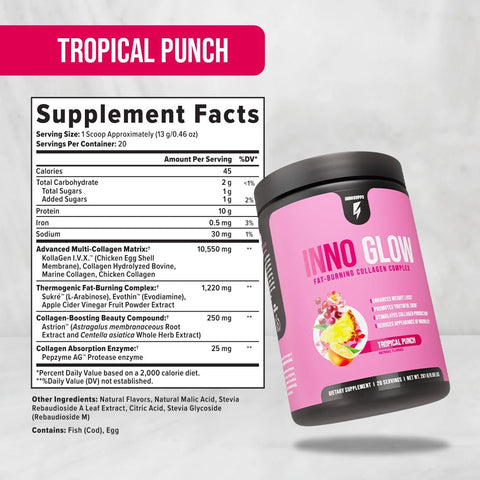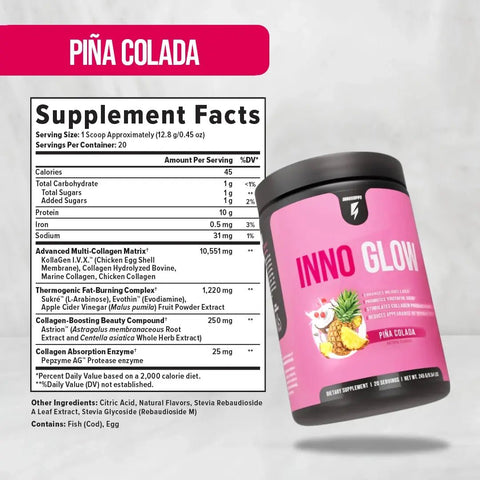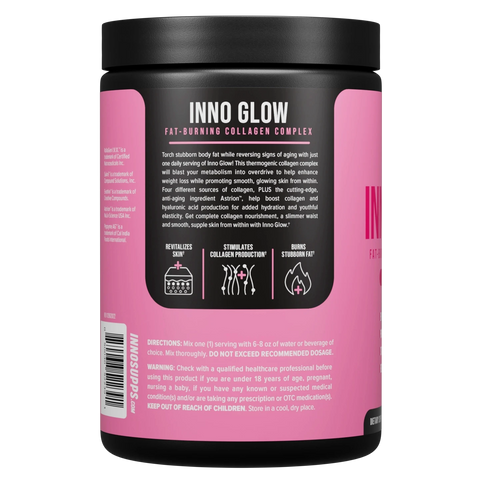 Inno Supps
INNO GLOW
Tax included.
Shipping
calculated at checkout.
Product Description
*DOCTOR APPROVED COLLAGEN TO SUPPORT BODY WELLNESS & NATURAL BEAUTY*

Amplify Fat-Burning*
Enhance Calorie Burn*
Reverse Signs of Aging*
Firm, Tighten & Hydrate Skin*
Reduce Cellulite & Wrinkles*
Support Longer, Stronger Hair & Nails*

Endorsed by Dr. Anika Ackerman, M.D.
Board-Certified Physician

**THE MOST CUTTING-EDGE INGREDIENTS TO ENHANCE WEIGHT LOSS WHILE REVERSING SIGNS OF AGING**

**THERMOGENIC FAT-BURNING COMPLEX**
1. **EVOTHIN™**
- Accelerate Calorie Burn and Prevent Fat Gain*
- Ignite Thermogenic Fat-Burning and Enhance Weight Loss*
2. **SUKRÉ™**
- Support Blood Glucose Levels for Healthy Weight Management*
- Promote Lean Body Composition and Enhance Weight Loss*

**COLLAGEN-BOOSTING & ABSORPTION COMPOUNDS**
3. **ASTRION™**
- Boost Collagen and Hyaluronic Acid Production*
- Reduce the Appearance of Fine Lines and Wrinkles*
4. **PEPZYME AG™**
- Enhance Collagen Absorption and Beauty-Boosting Benefits*
- Support Muscle Growth and Improve Gut and Digestive Health*

**6 AGE-DEFYING, PHYSIQUE-TRANSFORMING BENEFITS**

**ACCELERATE WEIGHT LOSS*
With ingredients known to ignite the metabolism and activate thermogenesis, our Thermogenic Fat-Burning Complex also contains evodiamine, which is known to enhance calorie burn AND prevent fat gain for amplified weight loss.*

**BUILD A LEANER, STRONGER PHYSIQUE*
This formula boasts a generous supply of collagen plus 10 g of protein per serving, helping you build stronger, leaner muscles that help amplify fat loss and keep your body in a thermogenic state.*

**EASE BLOATING & ENHANCE DIGESTION*
Daily collagen use is shown to help promote healthy digestion and enhance gut health, helping you beat the bloat and relieve occasional stomach discomfort.*

**YOUTHFUL, GLOWING SKIN*
Tackle signs of aging from two different angles! Our multi-collagen formula provides you with 5 types of collagen as well as the clinically studied Astrion™ to stimulate collagen production — giving you a healthy, youthful glow from within.*

**LONGER, STRONGER HAIR & NAILS*
Boosting your body's collagen production is crucial for growing longer, thicker nails. It may also help prevent age-related hair thinning and hair loss.*

**BYE-BYE, FINE LINES & WRINKLES*
Our beauty-boosting compound, Astrion™ helps boost skin-smoothing hyaluronic acid production by 20% AND reduce wrinkles overall by 15% to restore your youthful, healthy glow.*

**DRINK YOUR SKINCARE ROUTINE**

Our age-reversing, fat-burning collagen comes in two mouth-watering flavors that blend easily with water, smoothies, or juice.

OR

Mix our unflavored option in your favorite beverage to reap all the benefits with just 1 scoop daily.

**ADVANCED MULTI-COLLAGEN MATRIX TO HELP REVERSE SIGNS OF AGING**
CHICKEN + CHICKEN EGGSHELL MEMBRANE + HYDROLYZED BOVINE + MARINE COLLAGENS

**TYPE I**
Supports skin structure and elasticity to minimize fine lines and wrinkles as well as support stronger, thicker hair and nails.

**TYPE II**
Plays a vital role in supporting joint health, helping you move with more flexibility and less discomfort.

**TYPE III**
Essential for supporting the structure of blood vessels and muscle tissue, this also works alongside type I collagen to support firm, hydrated skin.

**TYPE V**
Supports healthy tissue growth in vital organs, hair and nails to support healthy aging. It's also essential for forming type I and III collagens for a youthful glow.

**TYPE X**
Crucial for maintaining strong, healthy joints and bones, type X will help alleviate the aches and pains that come with aging so you can move with ease and youthful vitality.

**POWERFUL, NATURAL FORMULA FOR A SLIMMER WAIST & SUPPLE SKIN**

**THERMOGENIC FAT-BURNING COMPLEX†**
EVOTHIN™ + SUKRÉ™ + APPLE CIDER VINEGAR
Accelerate Fat-Burning From Two Angles*
The centuries-used alkaloid found in Evothin™, evodiamine, is said to both ignite thermogenesis AND prevent the formation of new fat cells, helping you attack stubborn fat with a one-two punch.*
Support Healthy Blood Sugar & Weight Management*
L-Arabinose, the key ingredient in Sukré™, is known to help keep blood sugar in check and support your body's insulin response, which may promote healthy weight management and enhance weight loss.*
Boost Metabolism & Skyrocket Energy*
Studies show that the acetic acid in apple cider vinegar may help rev up the metabolism, while the potassium and natural enzymes in ACV help send energy levels sky-high.*

**CUTTING-EDGE COLLAGEN-BOOSTING & ABSORPTION COMPOUNDS**
ASTRION™ + PEPZYME AG™
Complete Skin Renewal & Hyper-Hydration From Within*
Revolutionary anti-aging ingredient Astrion™ is shown to reduce fine lines and wrinkles AND boost collagen and hyaluronic acid production from deep within your skin, leaving your skin looking and feeling smooth, plump and luscious!*
Enhance Beauty-Boosting Benefits of Collagen*
Cutting-edge Pepzyme AG™ helps your body break down collagen proteins into their most bioactive and bioavailable forms, making it easier for your body to use its beauty-boosting properties.*
Beat Bloating & Enhance Gut Health*
Increased ability to digest proteins thanks to Pepzyme AG™ may also prevent food from backing up in your gut and causing digestive issues like bloating.*
Directions for Use
Serving size 1 scoop (12.2 g)
Servings per container 20

Directions Of Use
Dissolve one serving in water, juice or your favourite beverage. For maximum absorption, take on an empty stomach.


Nutritional information