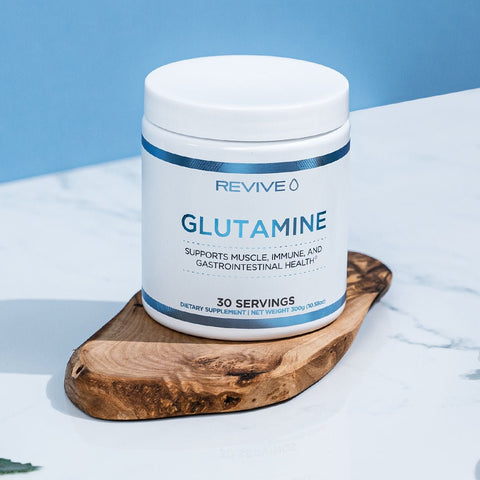 Revive MD
Glutamine by Revive MD
Tax included.
Shipping
calculated at checkout.
Product Description
Glutamine from Revive

Revive Supplements Glutamine is a natural supplement designed to support muscle recovery, immune function, and gut health. This formula contains a potent dose of L-Glutamine, an essential amino acid that plays a critical role in the body's recovery and repair processes.
Each serving of Revive Supplements Glutamine contains pure L-Glutamine, which can help support muscle recovery, reduce muscle soreness, and improve immune function. This supplement is also known to support gut health by promoting healthy intestinal permeability and reducing inflammation in the gut.
This supplement is vegan-friendly, gluten-free, and soy-free, making it a great choice for anyone looking for a natural way to support their overall health and wellbeing.
Directions for Use
Suggested Use: Mix one (1) scoop (10g) daily with water or beverage of choice, or as recommended by a healthcare practitioner.
Nutritional information