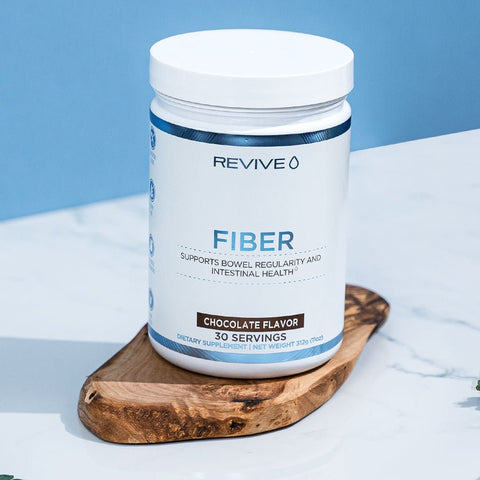 Revive MD
Fiber by Revive MD
Tax included.
Shipping
calculated at checkout.
Product Description
Fiber from Revive

Revive Supplements Fiber is a natural supplement designed to support digestive health by providing a powerful dose of dietary fiber. This formula contains a blend of soluble and insoluble fiber, which work together to promote healthy digestion, regularity, and overall gut health.
Each serving of Revive Supplements Fiber contains 5g of dietary fiber, which is essential for maintaining a healthy digestive system. This supplement is made with a blend of soluble and insoluble fiber, including Psyllium Husk, Inulin, and Flaxseed, which can help improve bowel regularity, promote satiety, and support healthy blood sugar levels.
This supplement is vegan-friendly, gluten-free, and soy-free, making it a great choice for anyone looking for a natural way to support their digestive health.
Directions for Use
We suggest taking one scoop of fiber per day to assess tolerance. Based on bowel motility adjust accordingly. If you notice a positive change then maintain one scoop per day but if you still feel backed up increase marginally. For best results, make sure to be consuming at least 3 liters of water each day.
Nutritional information