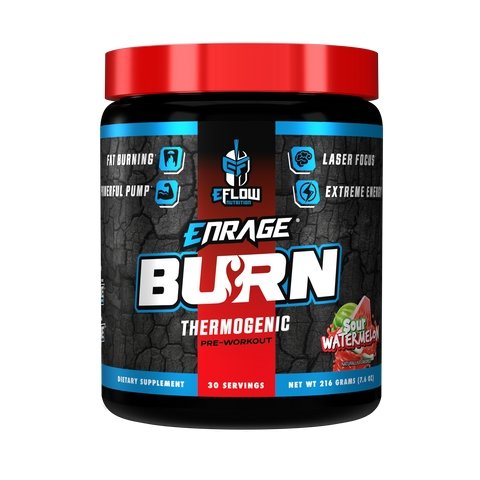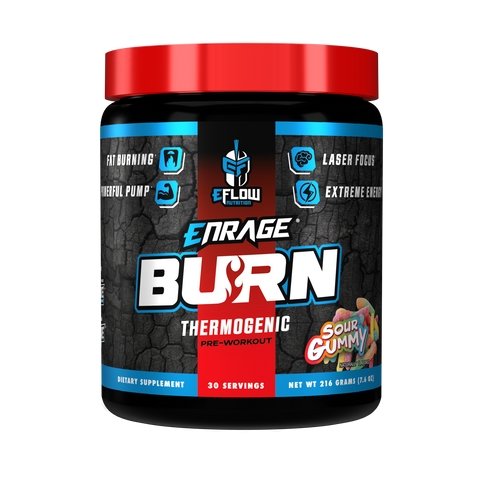 eFlow Nutrition
eFlow Nutrition - ENRAGE BURN
Tax included.
Shipping
calculated at checkout.
Product Description
ENRAGE® BURN cranks up your metabolism, energy, blood flow, focus, and performance.*

Each scoop contains specific ingredients that work synergistically to boost metabolism and turn you into a calorie burning machine.*

Added sweat enhancing compounds like GBB and Paradoxine® help fuel the furnace and melt away body fat.

Experience increased blood flow with S7® a low dose blend of seven (7) plant-based ingredients that have been clinically shown to increase nitric oxide (NO) by 230%.

ENRAGE BURN redefines what it means to be an industry leading thermogenic, delivering unrivaled energy, focus, pumps, and performance. Take your workouts and fat burning to the next level with ENRAGE® BURN.
Directions for Use
Intended for use on training days. Take 1 Serving (1 Scoop) approximately 15-30 minutes prior to training, blended into 4-8 ounces of cold water. To avoid sleeplessness, do not take within 4 hours of sleep.
Nutritional information