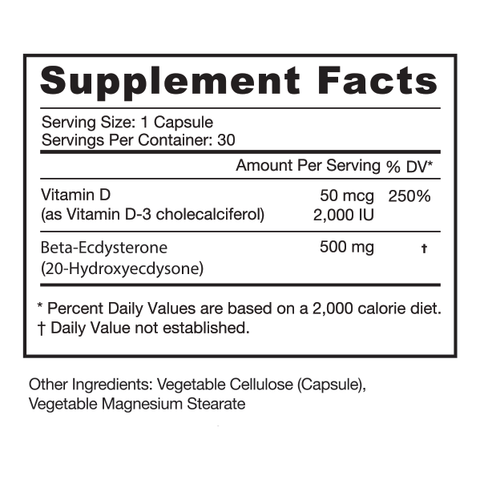 Astroflav
Ecdysterone by Astroflav
Tax included.
Shipping
calculated at checkout.
Product Description
AstroFlav Ecdysterone is a natural anabolic support supplement supplying 500mg beta-ecdysterone. Studies have shown that Ecdysterone can increase in lean muscle mass and strength.†

- Natural Anabolic Agent

- Lean Muscle Gains

- Boost Strength and Recovery

- Boost in Athletic Performance

AstroFlav Ecdysterone

Ecdysterone (20-Hydroxyecdysone) is a unique and potent naturally occurring compound. Research on Ecdysterone supplements has shown that it's an excellent natural muscle-building supplement.
It's highly effective at increasing lean muscle mass and has become extremely popular amongst bodybuilders and other athletes. Not only could it help increase mass, but it's also great for strength and power.
Directions for Use
How To Use

On Training Days:

Option 1: Take one serving (1 Capsules) once a day. For best results take after your workout.

On Non-Training Days:

Take (1 Capsule) in the AM.