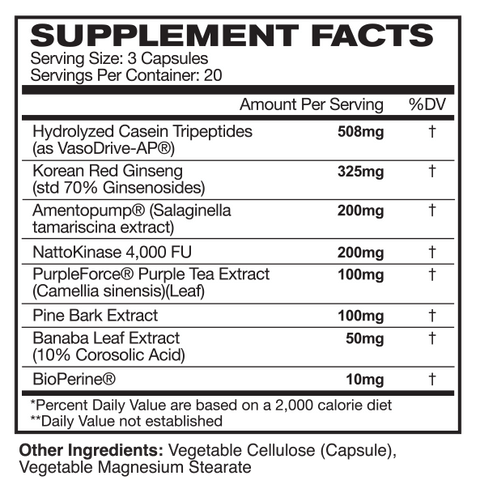 Astroflav
A-PUMP by Astroflav
Tax included.
Shipping
calculated at checkout.
Product Description
A-Pump Provides you with the top clinically studied pro-nitric oxide ingredients for sports nutrition and a healthy cardiovascular system.

Supports an increase in blood flow for strong muscle pumps during training†Increases nitric oxide production which supports blood flow, power output and oxygen transport†Long-term solution for optimal intra-workout pump†Reduce muscle soreness after high-intensity exercise†Stimulant Free pump formula that can be taken as a standalone or combined with other pre-workout products†Convenient On-The-Go Capsules †

The combination of these powerful ingredients in A-Pump, Amentopump®, VasoDrive-AP®, and PurpleForce®. Create a synergistic effect that is far more powerful and will increase performance.
Directions for Use
How To Use

On Training Days:

Option 1: As a standalone. Take one serving (3 Capsules) 20-30 minutes prior to exercise.

Option 2: Stack with Flip Mode, Drip, or your favorite pre-workout. Take 3 Capsules of A-Pump and One Scoop Only

On Non-Training Days:

For additional cardiovascular benefits take (3 Capsules) 20-30 minutes prior to a meal.