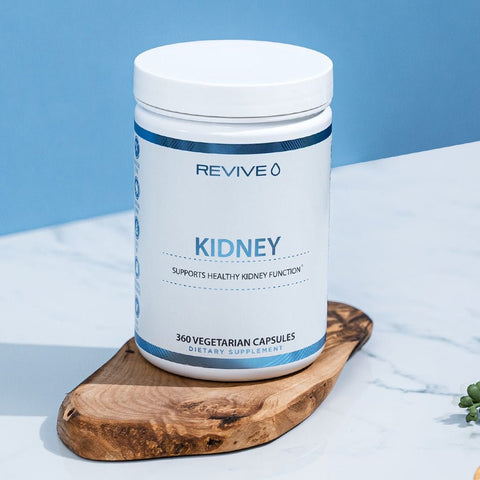 Revive MD
Revive MD Kidney
Tax included.
Shipping
calculated at checkout.
Product Description
Support healthy kidney function
The combined properties of these powerhouse ingredients may provide users with a natural method to protect the kidneys and counteract adverse effects that reduced blood flow or high blood pressure may have on the kidneys.

Key Benefits:

Help reduce stress on the kidneys
Help Maintain already-healthy blood pressure
Help Protect the kidneys
Kidney from Revive
Revive's kidney support supplement capsules have been formulated with the finest natural ingredients to help maintain and support already-healthy kidney function. Our formula combines the properties of four organic ingredients: astragalus powder, beetroot extract, grape seed extract, and pine bark. Together, these ingredients can facilitate kidney health by improving blood flow and supporting already-healthy kidney filtration levels. Daily use may help promote healthy laboratory markers of kidney function.

Key Ingredients
Organic Astragalus Powder
Astragalus is used to protect and support the immune system, lowering blood pressure and protecting the liver. Astragalus has antibacterial and anti-inflammatory properties.

Organic Beet Root
Beetroot is rich in betalain which is a phytonutrient found in plants. The betalain in beetroot is the nutrient that contains its anti-inflammatory and antioxidant properties. These nutrients in beetroot play a protective role in protecting the cells of the kidneys from inflammation and cellular damage and thus can be part of a healthy kidney diet.

Grape Seed Extract
Animal studies have shown that GSE may reduce kidney damage and improve function by reducing oxidative stress and inflammatory damage
Directions for Use
We recommend following the suggested use on the label for specific directions or consulting with your physician before use.
Nutritional information