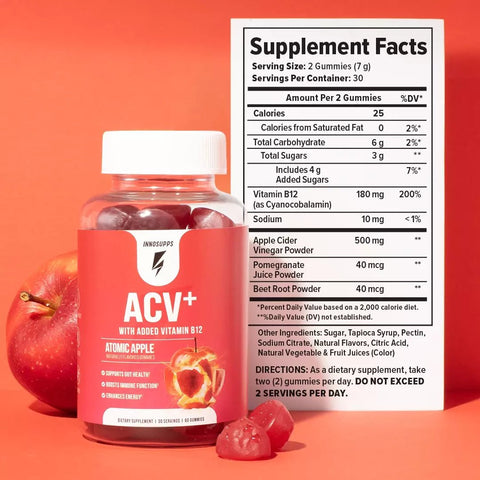 Inno Supps
ACV+ GUMMIES
Tax included.
Shipping
calculated at checkout.
Product Description
SUPPORT GUT HEALTH, BOOST IMMUNITY
& ENHANCE OVERALL WELLNESS
WITH ADDED B12

Get all the benefits of Apple Cider Vinegar (ACV) without the harsh taste — PLUS enhance energy levels, boost brain power and reinvigorate your entire body with added B12! Nourish your gut and restore intestinal microflora to help enhance digestive and immune health for everyday health and wellness.

Supports Gut Health
Boosts Immune Function
Enhances Energy


Directions for Use
You can take ACV+ Gummies with or without food, whichever your stomach prefers.
Nutritional information